EGLISE DE SAINT GILLES
Historic site and monument , Church at Saint-Gilles-Croix-de-Vie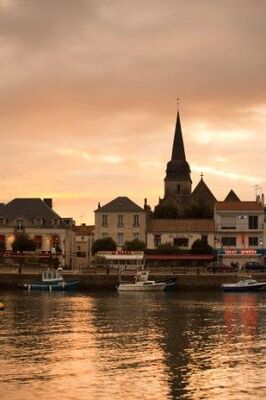 Pays de Saint Gilles Croix de Vie
EGLISE DE SAINT GILLES Historique:La première église a été construite au IXème siècle: probablement une église fortifiée bâtie par des moines venus de St-Michel-en-l'Herm.En l'an 1120, une bulle du Pape Callixte II mentionne St Gilles sur la liste des abbayes et prieurés dépendant de St-Gilles-du-Gard. Qui était St-Gilles? Un noble athénien qui après avoir distribué ses biens aux pauvres était venu en Gaule. De cette première église, il ne reste que les premières assises du gros pilier Nord qui soutient le clocher. Elle fut détruite par les Anglais au début du XIVème siècle et probablement reconstruite par eux un peu plus tard, c'est pourquoi on l'appelle "église des Anglais"... Vinrent les guerres de religion. Les protestants s'acharnèrent sur cette église; seuls le bas-côté et la tour du clocher subsistèrent. En 1613, les Catholiques de St-Gilles réédifièrent leur église.Dès la fin de la Révolution, elle fut rendue au culte, en 1871 on la restaure.
Leave a review about Eglise De Saint Gilles :
Horrible

Bad

Average

Good

Excellent
There is no review about Eglise De Saint Gilles, be the first to leave one !