THÉÂTRE "LE BAL DES ESCARGOTS"
Theatre at Bretignolles-sur-Mer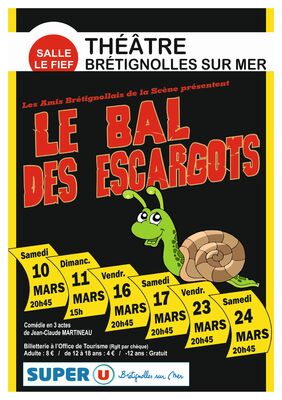 Comédie en 3 actes de Jean-Claude MARTINEAU.

Effervescence chez Martine et Paul qui marient leur fille Margot…Si Martine et Hortense s'activent, Paul surnommé l'escargot par son entourage se traîne lamentablement. La belle famille et le maire Jean-Pierre s'impatientent en attendant la mariée qui ayant pris conscience que son ami Flavien pouvait ressembler un jour à son escargot de père ne veut plus convoler en juste noce ! Affolement général et si Flavien disparaît pour revenir transformé en bonze, sa famille envahit la maison de la « presque mariée » considérant Paul responsable de cette situation. L'arrivée d'un de ses anciens copains de régiment ne va rien arranger jusqu'au réveil brutal de l'escargot !

Réservations au bureau d'information touristique. Pas de réservations par téléphone.

Documentation
On

March 10, 2018

On

March 11, 2018

From

March 16, 2018




until

March 17, 2018

From

March 23, 2018




until

March 24, 2018
Leave a review about Théâtre "le Bal Des Escargots" :
Horrible

Bad

Average

Good

Excellent
There is no review about Théâtre "le Bal Des Escargots", be the first to leave one !