EXPOSITION « SÉRIES CHÉRIES »
Exhibition at Saint-Hilaire-de-Riez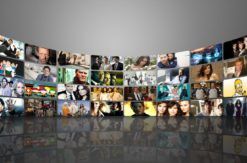 Les séries sont sur toutes les chaînes, dans tous les pays… Impossible d'y échapper. Aux Etats-Unis, mais aussi en Grande-Bretagne, en France, dans les pays scandinaves, partout, la production s'est emballée au point de donner le vertige. En 2015, plus de 400 séries étaient produites aux USA, contre une centaine 15 ans plus tôt. Elles sont devenues aujourd'hui un phénomène planétaire, véritable nouvelle pop culture, auquel on peut difficilement échapper. Elles sont, comme le dit Martin Winckler, spécialiste du sujet, les miroirs de notre vie. Miroirs à la fois sociologique et politique. Cette exposition s'intéresse plus particulièrement aux œuvres produites depuis les années 2000 avec l'avènement de séries d'un nouveau genre. La narration s'y veut plus complexe et fait la part belle aux « anti-héros », personnages que l'on adore détester. On peut citer Les Sopranos, The Shield ou encore OZ. Mais ce sera aussi l'occasion de découvrir des séries méconnues. Que vous soyez accro aux super héros, angoissé par les récits dystopiques, amateur d'horreur, de fantasy, de romance, de drames exigeants ou d'anthologies insolites, il existe forcément quelque part la (ou les) série(s) faite(s) pour vous…

Libre accès aux heures d'ouverture de la médiathèque : 02 51 59 94 55.
Schedules

From

November 3, 2017

until

December 2, 2017
Leave a review about Exposition « Séries Chéries » :
Horrible

Bad

Average

Good

Excellent
There is no review about Exposition « Séries Chéries », be the first to leave one !